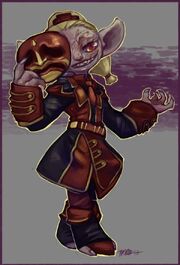 Basic Information
Name: Thimm
Gender: Not specified.
Race: Asura
Age: Lied about often.
Birthdate: Day 13 of the Phoenix, 13??
Birthplace: Rata Sum
Current Residence: Rata Sum
Education: College Rejectee
Occupation: Shithead Inquest Agent
Class: Mesmer
Physical Appearance
You are not likely to see much of Thimm as they regularly keep nearly their entire body covered-- sometimes with several layers of clothing due to disfiguring burn scars that span their body from almost head to toe. It should also be noted that Thimm is albino. Recently they have taken to wearing a helmet that obscures their entire face.
Height: 2'5"
Weight: 23 lbs
Hair: Pale blond.
Eyes: Pale pink with red pupils.
Skin Color: White
Ears: Average length, wide, and pointed.